15 Jul

Organizing Workshops for Heli Rope Rescue

Helicopter and Emergency Aerial Response sTrategy (H.E.A.R.T.) Presentation
Ivan Kristoff, aka Spiderman – the first man who worked on the inaccessible places of the tallest concrete tower in the world, presented the Highrise Emergency Aerial Response sTrategy (H.E.A.R.T.) during the Dubai Helishow 2012. This event was at the Grand Stand, Meydan Hotel, Meydan Racecourse.

The H.E.A.R.T. Workshop may be held during the D.R.O.N.E. presentation in 2022
The workshop will be a round-table event with not more than 20-30 experts who will exchange ideas on rescuing people from high-rise buildings and will aim definite practical benefits. World's leading experts, property managers, professional and consulting engineers, involved with the design, development, installment of safety equipment, will be able to participate remotely via Live Video Conference.

The workshop will focus on how helicopters can assist in the area of emergency response, innovative concepts for rapid access deployment of rescuers and emergency response specialists by air, and specialized training for aerial emergency response personnel. We are inviting speakers, who have knowledge and experience in the field, to present case studies of their work, technology and systems that contribute to the improvement of existing practices and training procedures. We will showcase the impact of new technologies and better efficiency for aerial video monitoring of ER in real time.

Training other responders in rescue techniques will also be an important part of the conference. For those who cannot attend the conference on spot, Remote Video Conferencing will be the option.

There is a lot of knowledge that can improve aviation safety and emergency response efficiency. You are welcome to submit your topics and share them in this Video Conference. For more information, please see the Newsletter

About the presenter:

Ivan Kristoff, rope access expert and extreme record man, went down in history on August 14th 1997, off the Ontario Place, Toronto, Canada, by rappelling and ascending a few hundred meters long rope, suspended by a helicopter. This was a preparation for a joint event with the Metropolitan Toronto Police, and other Canadian Emergency Services, for the 1st Annual Law Enforcement and Emergency Services Appreciation Day. This event put him way ahead of his nearest competitors and has yet to be superseded. Since then, he loves pushing his limits.
This was just the beginning of a series of such initiatives, which helped Ivan measure the time keeping, HR monitoring, and efficiency of specialized training for rope access work on super high-rise buildings or long line heli ops.
During Dubai Helishow 2014, Ivan presented his workshop, which is focused on safety, and enhancement of the the conventional ways of government and private training for Emergency Services.
Kristoff is an aviator, rescue worker, and rope access expert in vertical and aerial operations. He has developed various solutions to improve the safety of vertical and aerial rope maneuvers. His work in vertical and remote access in extreme conditions and heights has contributed to the development and improvement of safety standards. Kristoff dedicates his time to charitable causes in support of volunteer rescue units and initiatives. Currently, he is working on creating an International Vertical Access Network called I.V.A.N., the main goal of which is to share new trends to the high altitude vertical and aerial industry.
Ivan Kristoff is highly reputable consultant in the field of vertical operations – he lectures, makes professional trainings, provides expert assessments and adequate supervision on high-rise operations. He develops Emergency Preparedness and Response Plans for project and property managers, as well as Accident Prevention Programs for rope access workers. He is currently in the process of establishing an Institute for Vertical Access operatioNs and a Rope Rescue Multimedia Database. His team has the skills necessary for high-angle and high-altitude rope rescue operations. Beyond that, he strives to develop technically innovative concepts and advanced skills in the use of high-tech equipment and communications.
Ivan Kristoff provides training in a wide variety of skills in the field of rope access including rock and wall climbing, helicopter rappelling and ascending, use of technical rope rescue systems in extreme situations, aerial video and photography, radio communication, and first aid.
In collaboration with participating government and volunteer organizations, he intends to provide high-angle rescue and airborne support for:
– Emergency Services
– Super Highrise Rope Rescue
– Enhancing community-based emergency response services
History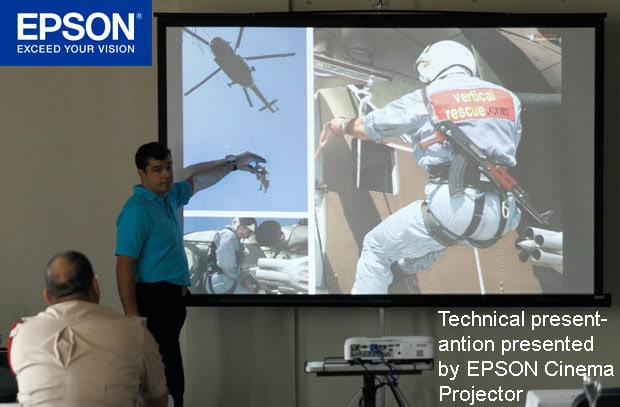 Dubai Military and Homeland Security Exhibition – Largest Middle East Air Medical and Rescue Show Ivan Kristoff, held his workshop during the Dubai Helishow 2010, which presented the study of the Highrise Emergency and Aerial Rescue Team (H.E.A.R.T.), which played an important role in the development of safer standards for rope access work within high-rise construction and building sites in Ontario, Canada and he will also showcase how he has helped drive the industry in creating a specialized urban high angle rescue unit.
Ivan Kristoff arranged with the personnel of Dubai World Trade Center the protocol for meeting the Crown Prince of Dubai – HH Shaikh Majid Bin Mohammed Bin Rashid Al Maktoum, Chairman of Dubai Culture and Arts Authority. His Highness inaugurated the Dubai Helishow 2010.
At the largest Middle East Military and Homeland Security Exhibition, Ivan Kristoff made a special presentation of new equipment for rope access equipment. During the Dubai Helishow 2012, he will showcase a mobile video monitoring patrol system.
HEH Natour Ahmad Zuhir Mohammed, provided H.E.A.R.T. with one of his Limited Edition emergency vehicles for Rope Rescue. This one-of-a-kind emergency vehicle was one of the main attraction of the Emergency Response Display at the Dubai Helishow 2010.
During Dubai HeliShow 2010 he introduced a new concept for the high rise development industry in Dubai. "With more than a few thousand high-rise buildings, and growing building development in Dubai, I will explore the opportunity to create and train urban high-rise rope rescue unit, which can respond efficiently to emergencies in inaccessible places. Dubai is said to currently have 15-25% of all the world's cranes. The Dubai Waterfront, when completed, will become the largest waterfront development in the world. It is crucial to be prepared for the unexpected", said Ivan Kristoff.
Ivan Kristoff supports all volunteer rescue initiatives of its employees and team members and finances all expenses for such projects. During the SARSCENE' 97, Ivan presented his initiative to create a Canadian Rescue Emergency Service Team, aka C.R.E.S.T. for the Province of Ontario. He also demonstrated the technical capabilities and specialized high angle rescue equipment of the team members in an outdoor demonstration in the region of Sault Ste Marie, Ontario.
On the following year he was invited to took part in the SARSCENE '98.Working Together to Bring Them Home, this SAR Conference and trade Show was held 23 to 27 September in Banff, Alberta. Combining presentations, outdoor demonstrations and social events, the workshop was a great success. A record 639 participants from across North America and Europe enjoyed the opportunity to share their ideas and enthusiasm with members of volunteer, provincial and federal SAR agencies.
Workshop participants also enjoyed Technical Rescue Day, held off-site at Wasootch Slabs and Barrier Lake and organized by George Field and the Kananaskis Country staff. The outdoor event featured high angle rope rescue, with demonstrations by Parks Canada rescue specialists, and a special presentation by Ivan Kristoff and the International Association SAR of China.
Annotation:
The presentation will show the case study of a Highrise Emergency and Aerial Rescue Team (H.E.A.R.T.) created in Canada. The team played an important role in the development of safer standards for rope access work in the high-rise construction and building development in the province of Ontario. It shaped new trends for the industry and demonstrated the need for creating a specialized urban high angle rescue unit, able to deal efficiently at any height and place on the exterior walls of tall buildings in Toronto. It brought the attention and participation of the Mayor of the City of Toronto and the Emergency Measure Services 911 in the team's demonstrations and discussions.
The specialized government organizations and the private sector from the construction industry can benefit from the experience of the team. This is an opportunity for rescue agencies and Air Police units to exploit the possibility to develop such initiatives and specialized training for their crew members. In the process of planning for rapid aerial rescue services, the flying crews of the government or private organizations, involved with such applications, can learn from the real life critical situations during helicopter operations and benefit from the lessons.
Worldwide initiatives: In the videos in this link Helping other nations, the author of this articles has demonstrated how HEART can be more efficient then the local Emergency Services and Mountain Rescue Service in Bulgaria.
The Highrise Emergency and Aerial Rescue Team (H.E.A.R.T.) is organizing a presentation for the H.E.A.R.T. Workshop at the Eiger Emergency Response Training Center , Sofia, Bulgaria. Among the invited participants are aerial rescue and rope access technicians from Canada, Abu Dhabi, Jordan, Bulgaria and other countries.
Some of the topics for High rise and Emergency response to hard to reach places will include:
Helicopter loading operations
Medevac from a Military Helicopter
Specialized Training With the Air Police
Specialized Training with Air Forces
Water Rescue by Air
Applications and Technology for Helicopter Rappelling Operations
Aerial video and photo monitoring in real time
Aerial Firefighting
Digital Workflow Group
Ivan Kristoff formed a Digital Workflow Group to meet the most challenging requirements of architectural, remote access and progress photography in the construction industry. Digital Workflow Group is a team of experts in the field of imaging technology and Wireless IT Solutions. Classes are taking place at the I.V.A.N. (Institute for Vertical Access operatioNs) and the Emergency Response Training Center. For students who are interested in exploring the ThinkPad technology, we recommend to visit the website of our partners
With dozens of years experience between them with the equipment and application knowledge to create solutions that work in the real world, they combine the disciplines of photography and mobile computing and have an in-depth understanding of the issues a photographer confronts today – lighting, optics, color, printing as well as imaging for the Internet, photography for aerial monitoring and other leading edge applications.The Digital Workflow Group provides consulting, training, technical support and on-line assistance to Ivan's clients. They are the professional photographer's link to the latest technology. For mobile computing solutions for your enterprise, contact us.One of the Top 10 companies form Fortune 500, such as IBM, have featured Ivan's success story in using their advanced technology in the case studies at the National Post. World renowned leaders in IT such as Sony Ericsson, Nokia, Nikon, Canon, Panasonic, HP, Acer, Epson and Itronix provide their latest equipment to Ivan for testing and user feedback. See our Case Studies and Seminars: Innovative Applications and Technology for Helicopter Rappelling Operations, Testing of IT equipment.Our focus is on applying the most advanced technology up in the air and deep down in caves and underwater. Literally.

Training for verification of image authenticity
Our technical visual reports are guarantied for verification of image authenticity. We use Image Authentication Software, which enables the authentication of an image captured by the camera and can determine whether or not it has been altered since capture, verifying the image as well as information attached to it. Various code protections are employed to prevent alterations to the software program.From taking a picture to utilized it in a secure document with Image Authentication Software, the Digital Workflow Group provides consulting, training, technical support and on-line assistance to Ivan's clients. They are the professional photographer's link to the latest technology.
През 1997. проведох лекция и техническа презентация на Канадската национална конференция по издирване и спасяване SARSCENE '97. Тя се проведе в град Sault Ste Marie, в провинцията Онтарио. На нея присъстваха национални спасителни екипи от цял свят. Реших, че би било чудесно и да представим наш – български екип там. Това щеше да е и от полза не само за спасителните ни служби, но най-вече да се черпи опит от най-добрите спасителни организации в света. А основната дейност, след сигурността и охраната на Канадската армия е Издирване и спасяване в екстремални ситуации. Заради спецификата на технологиите, и мащабите за спасяване във втората по големина в света държава, каквато е Канада, както и заради високия стандарт и фокус към протекции на човешкия живот и инвестиции, спасителите от канадската армия, известни като SAR Techs се водят най-добрите в света. Например, представете си спасяване в ледовити води на океана или най-северните части – при ескимосите. Затова, за да станеш член на екипа Search and Rescue там, трябва да си служил минимум 4 години в Канадската армия и да си с опит в оказване на до-лекарска и спешна помощ. От тогава почват яки тренировки по парашутизъм, леководолазна дейност…
От интереса, който проявиха там към иновациите и идеите ми в сферата на височинно въжените и въздушните спасителни операции и от факта,смятах, че и хората, които поканя от България ще са добре дошли и добре възприети от това общество. А там имаше и много красиви спасителки.
Наех се с организирането на покана до АСО на Федерацията по пещерно дело в България, както за финансирането на пътя им, и всичко остнало като храна, транспорт, развлечения (защото бях убеден, че ще искат да видят Ниагарския водопад и др.), престоя им и бях подготвен за какви ли не тяхни прищявки в Канада. Все пак си ги познавах тези хора. Но в името на каузата пък – защо пък не.
Тогава бях студент в Университета на Торонто и помня, че бая дълго време пестих и ядох по-скромно, та да събера резервни пари за бюджета, който си бях подготвил за тяхното пребиваване за следващата конференция, която щеше да се състои в Банф. Това е един от най-скъпите ски курорти в света и предимно японци могат да си позволят големи почивки там, заради високия им стандарт.
А, познайте защо не дойдоха българите???
Тази снимка, от времето когато научих как АСО (Аварийно спасителен отряд към Федерацията по пещерно дело) да излезе над земята, създаде и подържа концепцията "Връзки с общественността", ми обясни визуално много неща…
Повече за тази история, ще прочетете в предстоящшата ми книга: